change management
Organisations need to be adaptive and resilient if they are to survive and prosper. We have the experience and the tool kit to enable you to initiate, plan, implement and sustain the transformation of your business culture. The outcome of a change management programme is an organisation that can manage change by being resilient and adaptive.
a structured approach to sustainable change
Change cannot be imposed; hearts and minds need to be won over. We follow a four stage process to bring about sustainable change.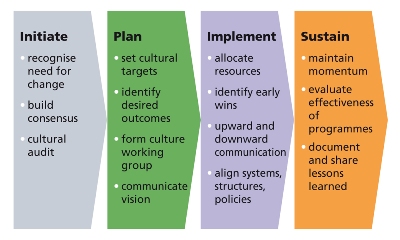 initiate
Initiation of change is often triggered by external events such as losing a major customer. Consensus for change needs to be built by gathering, analysing and sharing information relating to the internal and external environment. A culture audit would normally be completed at this stage.
plan
A plan for culture change includes the identification of levers for change, setting cultural targets and clear descriptions of outcomes. Mission, vision and values are developed or clarified. A diverse, credible culture working group steers the programme. Ongoing communication of the vision is crucial.
implement
Resources are allocated and plans refined; the programme is cascaded through the organisation. Systems, structures and policies are aligned; training is provided; upward and downward communication is established; early wins need to be identified. The culture working group meets regularly.
sustain
Lessons learned are shared and documented. Energy and momentum has to be maintained; culture change processes are evaluated for effectiveness and mechanisms are established to maintain the gains realised.
culture change can be an elusive goal
Research shows that two thirds of culture change programmes fail to achieve their objectives. Reasons include:
a failure to measure culture at the outset, then re-measure to evaluate progress
imprecise identification of the most effective levers for change
lack of senior management commitment
insufficient resource allocation
stamina – it's a long haul
Let us help you avoid your change management programme becoming another failed statistic.